The making of Shiisa art object
Trial class plan contents
2,000 yen ... made with Shiisa art object
Does product not look at southern country Shiisa only for oneself?

It is trial class which puts Shiisa made of glass on petankosango of palm size, and makes art object using coral and shell, fragment of Ryukyu glass.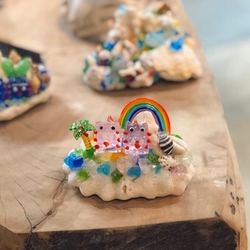 貝殻の上にかわいいシーサーが!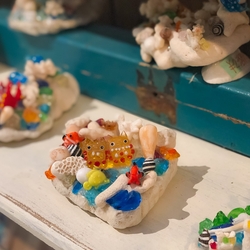 シーサーにはオスとメスがありそれぞれ意味を持ちます。
オスは口を開けて幸せを招き入れ、その幸せがにげないよう。メスは口を閉じていると言われています。
また魔除け効果もあるのでお部屋に飾れば運気もUP

Visitor gallery
Plan rate
| Trial class plan name | The time required | The last receptionist | The number of people | Rate |
| --- | --- | --- | --- | --- |
| | | - | 1people | |
| Trial class made with Shiisa art object | Approximately60minutes | 15:45 | 1people | 2,000yen |
Trial class plan needs reservations.
But it should be cancellation when it is past 15 minutes. Approve beforehand.
After application, we reply from the inner (from 9:00 to 18:00) person in charge for business hours.
※About inquiry out of the business hours, I will inform the next day.
If you have any questions, please contact over telephone.
※If there is space, guidance of the day is possible, too.