Watter Battle ~ Battle at Ryukyumura ~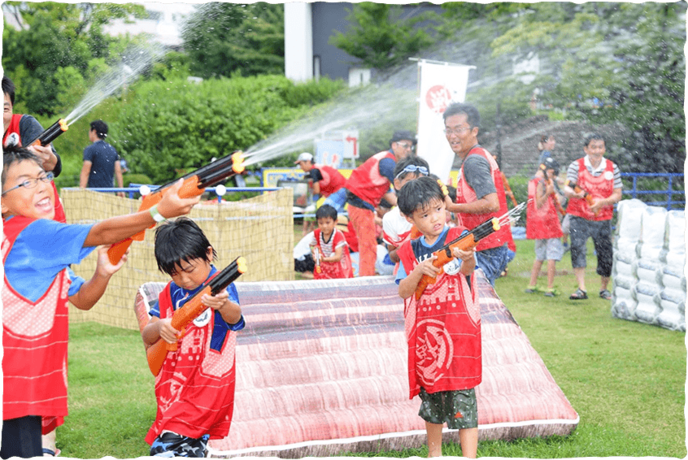 Trial class plan contents
5years old and over 2,980yen *Separate entering fee requires for Ryukyu Village

水合戦〜琉球村の陣〜
琉球版SAMURAIサバイバルゲーム
2020年夏開催!
7月25日(土)7月26日(日)
8月1日(土)8月2日(日)
8月8日(土)8月9日(日)
8月22日(土)8月23日(日)
開催時間
第一部11:00 第二部13:00 第三部14:30
詳細情報
水合戦 ~琉球村の陣 ~
ゲームは2チームに分かれて行います。
合戦の始めと途中には軍師がついて作戦を一緒に練っていくから安心。
合戦に参加することでかけがえのない戦友もできるぞ!
Visitor gallery
Plan rate
| Trial class plan name | The time required | The last receptionist | The number of people | Rate |
| --- | --- | --- | --- | --- |
| One person ( 5 years old over ) | Approximately60minutes | 14:30 | 1people | 2,980yen |
Now in Ryukyumura! Here the battle begins!
水合戦 ~ Ryukyu SAMURAI Watter battle ~
Fight with water guns instead of using matchlock guns!
Shoot your opponents behind the covers!
*A matchlock gun was generally used in ancient battles in Japan.
*The maximum number of participants for each battle is 60 people.
the Rebellion of Gosamaru and Amawari
It was1458.Okinawa was still an independent country called "Ryukyu Kingdom."
The kingdom was in a state of confusion.
There were so many desired ones who wished to take over the kingdom,
which King Sho Taikyu had just founded.
At the same time, two men were there in Ryukyu Kingdom.
One was Gosamaru, who was born in On-na village and governed the central area of Ryukyu.
The other was Asamaru, who had overwhelming power in Katsuren peninsula.
Both of them acquired ruling power and the high rank of the Royal family states "Aji",
and they feared each other as a nemesis.
Finally, Gosamaru was ready for his soldiers to fight against Amawari.
Amawari, on the other hand, raised his voice as "This is the sign of the rebellion against the king."and he had besieged Gosamaru's castle.
This was the battle called "Rebellion of Gosamaru and Amawari " afterwards.
You will be the one who make the history of this rebellion which is full of mystery and adventure!
* For the games, please wear clothes that you don't mind getting wet.
*If you wear a swimsuit during the game, please wear other clothes over it,
which you don't mind getting wet. You can also wear a rashguard/Lycra over the swimsuit.
*Please wear shoes that are easy to move and you don't mind their getting wet.
*You can bring your own hat, swimsuit, towel, swimming goggles, etc.
*Please note that we do not have a changing room.
*The event may be cancelled due to stormy weather.
*You may not be able to participate if you are pregnant or have chronic diseases.
*Please note that you will be responsible for any accidents or injuries during the battle.