手びねりシーサー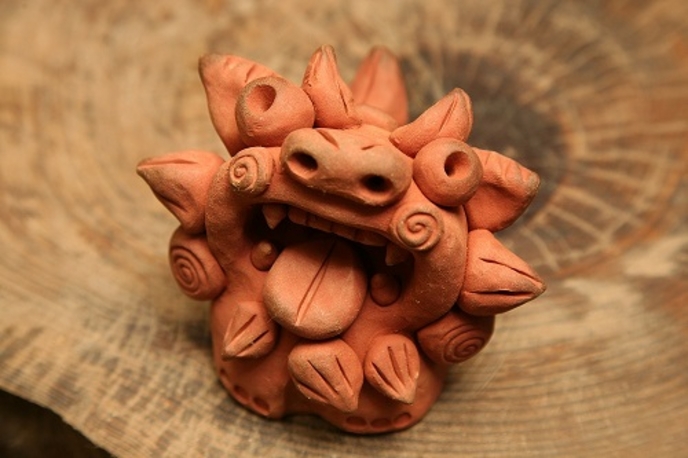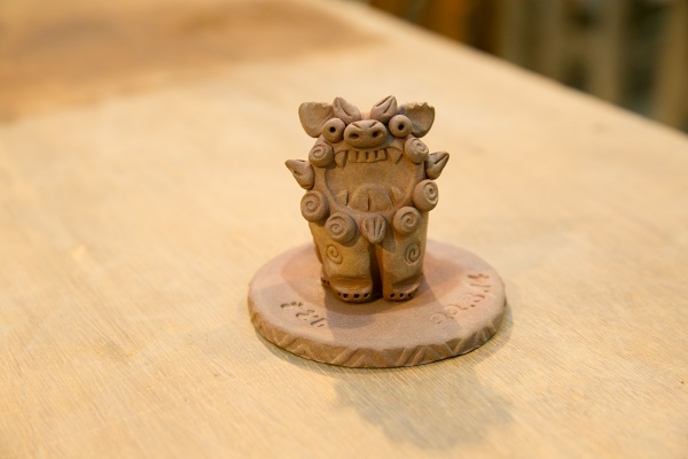 Trial class plan contents
手びねりミニシーサー 2,200円※送料別途
手びねりシーサー  3,300円※送料別途
手びねり体験シーサー作り。腕に自信のある人もない人も安心して参加いただけます。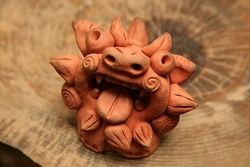 ■手びねりシーサー大■
1kgの土のかたまりから10cm程のシーサーを1点作っていただきます。口の開いたオスと口の閉じたメスのどちらかをお選びいただきます。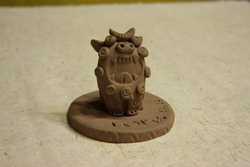 ■手びねりシーサーミニ■
500gの土のかたまりから5cm程度のシーサーを1点作っていただきます。土台のプレートには記念の文字が入れられます。口の開いたオスと口の閉じたメスどちらかをお選びいただけます。
Visitor gallery
Plan rate
| Trial class plan name | The time required | The last receptionist | The number of people | Rate |
| --- | --- | --- | --- | --- |
| To make with soil Shiisa size | Approximately120minutes | 15:30 | 1people | 3,300yen |
| To make with soil Shiisa mini | Approximately60minutes | 15:30 | 1people | 2,200yen |
※We did not hear advance reservations. You have you enter within 20 minutes before trial class time, and please accept on the day in ceramic art trial class meeting place in garden.
We cannot take to go on the day.
It is provided approximately one month later.
Postage distinction
To outside the prefecture, 20 prefecture 2,000 yen (every one place)
※It becomes 2,000 yen addition every 20. 
 (21-40) 4,000 yen (41-60) 6,000 yen (61-80) 8,000 yen
※We do not send out abroad.
A work is mailed later.  
It is not possible to international shipping.

琉球村のご入園が必要です。入園料別途要
※ご予約のお客様は体験時間の30分前までにお越しください。。


当予約はクレジットカード決済またはコンビニ決済でのご精算が必要です。
※コンビニ決済をご希望の場合5日前までのご予約をお願い致します。
【クレジットカード決済】
お申し込みフォームにてクレジットカード決済をご選択頂き必要情報をご記入下さい。
【コンビニ決済】
お申し込みフォームにてコンビニ決済をご選択頂きお申し込み下さい。
~ご予約確定までの流れ~
①お客様のご登録メールへOKKトラベルからの自動送信メールが届きます。
②OKKトラベルからの自動送信メールが送信された後、OKKトラベルよりコンビニ決済方法と受付番号を含む予約確定メールがスタッフより送信されます。
③予約確定メール受信確認後、指定コンビニエンスストアにてご利用日の前日AM10:00までにご入金下さい。
ご利用日の前日AM10:00までのお振り込みが確認できない場合、ご予約は自動的にお取り消しとなりますのでご了承下さい。
④当日指定時間に体験受付場所へお越し頂き、ご予約のお名前をお伝え下さい。

【ご予約のお取消しについて】
体験前日16:00以降より取消し料金が発生致します。
取り消し料金 体験料金の100%
※天災事変(天候等)による体験開催中止の場合、取り消し料金は発生致しません。
取扱手数料・振込み手数料を差し引いた金額でのご返金となります.
※ご返金につきまして
(クレジットカード決済の場合)
決済はお申し込み時となります。
お申し込み当月末までの取り消しの場合:決済の取り消しを行います。
お申し込み翌月以降の取り消しの場合:取り消し月の月末、銀行振込みにて振込み手数料を差し引いた金額でのご返金となります。
(コンビ二決済の場合)
取り消し月の月末、銀行振込みにて取扱手数料・振込み手数料を差し引いた金額でのご返金となります。