It is special product souvenir


It is special product RyukyuMura recommended souvenir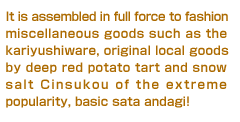 We have Ryukyu Awamori from 100% of old liquor to getting out storehouse home brew abundantly in horizontal liquor shop of the old Hikas.
Healthy brown sugar and cake to make from salt and sugarcane of Okinawa are sold♪
We put thing using dough of print like Okinawa including coaster using fabric and colorfully-dyed pattern
How to make that is traditional with Japanese cypress and head. Newly made Sir of aunt pride ter; under Guy.
Convenience "champuru market" of Okinawa where T-shirt, cake, anything including original character goods are even on from special product of Okinawa