Akata Shundunchi is affectionately known as finger play song for children.
It is also known as "Shii yaa puu" by many Okinawans since the chorus phrase starts with "Shii Yaa Puu, Shii Yaa Puu". The song comprises desire of welcoming Maitreya, praying for good health, bumper crops and peaceful world of Maitreya "yugafu". Even though times has changed, yet our only wish never change. "Akata Shundunchi" is a prayer for peaceful world, this is one of the Okinawan songs and customs that we would like to pass down to future generations for next 100 years.

photo: Jean Matsumoto JOHN MATSUMOTO WEB SITE "CHAOS – OkinawaAmericaAsiA ~" URL http://okinawamericasia.ti-da.net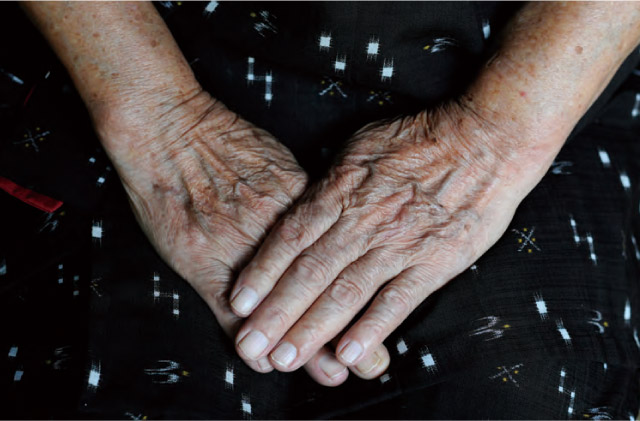 Miruku Unkee in Shuri Akata and "Akata Shundunchi"
Miruku Unkee is a traditional event that takes place in Shuri Akata, Naha city. "Miruku" comes form word Miroku meaning Maitreya and "Unkee" means welcome. This festival has been carried out, centered by Ishikawa family since Ryukyu Kingdom era. The origin of Miruku Unkee in Akata goes back to 300 years ago. It is said that Nuusume Kadekaru, one of the villager of Akata created a mask and papier-mâché of Maitreya based on the picture brought back from China by the monk and began to parade.
The festival stopped in early Showa period (around 1930s) but revived in 1994. It is held every year around July 16th in the old calendar. Currently the event welcomes "Miruku" Maitreya from community hall then parade through Akata of Shuri. The parade start out with Miruku Maitreya with big fan in the hand, then followed by ceremonial music of gongs, trumpets and small drums composed by around 100 children. During the parade "Akata Shundunchi" is sang, praying for good health of the residents.
RyukyuMura

Address Onna-son, Okinawa character Yamada 1130
Telephone 098-965-1234
gyoei from 8:30 to 17:30 (reception desk 17:00)
kika from 9:00 to 18:00 (reception desk 17:30)
"Song of Okinawa linking beautiful rasa feeling not to hit" RELEASE: July 18, 12 CODE: COCJ-37449 PRICE: 2,100 yen (tax in.)
obaa can teach song of toy in Akata Shuri!
RyukyuMura and tie-up plan of Okinawa music trip started. As for the theme music of RyukyuMura of from December to February, Akata Shuri is inner. While obaa sings "Akata Shuri" and children's song in old folk house in village, attraction to be able to teach gambling starts. Please sense song and scenery of Okinawa that you want to convey earlier for 100 years bodily in RyukyuMura.