Trip … which visits Utahara scenery of "celebration clause … happy melody" – Okinawa
A lot of celebrations to come in the present age are in Okinawa from old days. In RyukyuMura, we hold trial class event of celebration event at any time along the old calendar. Please enjoy trip to music to sense celebration of Okinawa bodily in song and dance "celebration clause … happy knob" of banquet of Okinawa at the beginning of the year.
photo: Jean Matsumoto
JOHN MATSUMOTO WEB SITE "CHAOS – OkinawaAmericaAsiA ~"
URL http://okinawamericasia.ti-da.net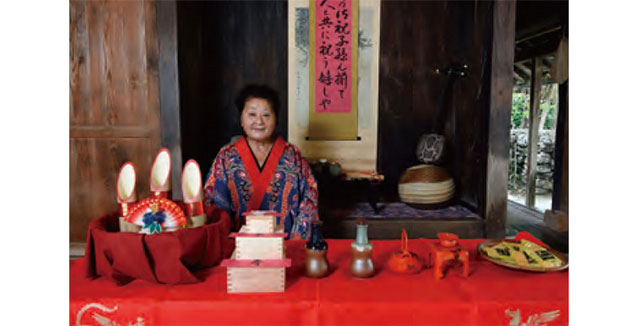 It is song sanshin for celebration of Okinawa
A lot of celebrations to come in the present age are in Okinawa from old days. "Age celebration" (Tutsi B) that representative celebration was based on the twelve signs of the zodiac. Other than Okinawa unique Tutsi B, it is lot only by 70-year-old seventy years of age which came from outside the prefecture, the 77-year-old Age of Joy, 80-year-old umbrella Kotobuki, celebration of turning point of age including the 88-year-old eighty-eighth birthday (toe Kachi) so. Furthermore, relative relatives gather if it becomes New Year holidays and celebration including wedding ceremony, baby gift, and banquet begins. Speaking of banquet, it is song sanshin. Speaking of the beginning of solemn party "key shop wind" of Ryukyu classic dance music. When we advance, and party livens up, gorgeous Okinawa folk song is sung.
"Celebration clause" and "happy melody"
Okinawa folk song which has been loved by the public. Speaking of constant seller of music to heap up seat of celebration "celebration clause" and "happy knob." As for the person whom feeling becomes exalted fast, and tempo begins to dance in comparison with melody of solemn "key shop wind." A lot of current dance music-like elements are included, too. The plain lyrics that expressed joy of celebration are included in "celebration gnarl" abundantly (cf. right page lyrics). "I hate key, and, as for the second, the lyrics same as "cheap node" are used for song of "happy melody" wind" most. It becomes exalted with happy feeling and is arranged among general public to dance as the upsurge, and it is said that this form settled gradually. People who worked hard for severe labor every day. Therefore we value celebration and enjoy party thoroughly until morning only on the day. It is famous tune which life, manners and customs of ancient people of such Okinawa are transmitted through in now.
1) Last auspicious occasion (sasa), and is in joy of money (sasayuwainu); sasuriyubanaure
Reason: Joy of the horizontal world where auspicious occasion leads to


2) ki yuru age madinyo (sasa) young kunayunayusayo (sasayuwainu) sasuriyubanaure
Reason: We become young until age to stop by


3) Is decoration tiyo (sasayuwainu) sasuriyubanaure Wakamatsu nu green (sasa) between floor nu
Reason: Let's display green of Wakamatsu in tokonoma