Trip to song and dance Ryukyu … to visit original scenery coming in "bed of roses mountain" – now
There is RyukyuMura in the foot of bed of roses mountain. It has been introduced into bed of roses mountain as one of the difficult places of hotel way of the Ryukyu Heian period that fere (we chase and tear off) appeared. By scenery of Mt. bed of roses to spread through RyukyuMura and original short play, please sense "old days Okinawa" bodily.
photo: Jean Matsumoto
JOHN MATSUMOTO WEB SITE "CHAOS – OkinawaAmericaAsiA ~"
URL http://okinawamericasia.ti-da.net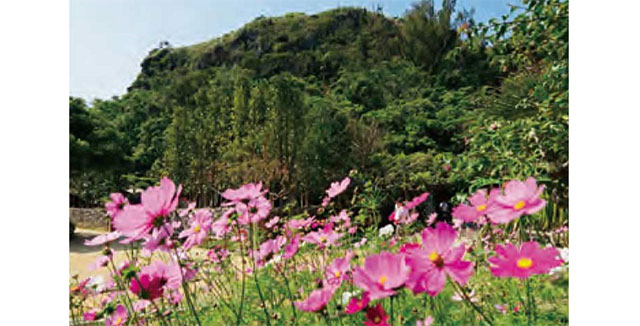 Okinawa ancient morality story "bed of roses mountain"
In 1429, Miyama is unified by Hashi Shou, and Ryukyu kingdom is born. Hashi Shou assumes Shuri Castle castle in the Ryukyu Heian period (1429 through 1879) and puts King prefecture in Shuri. We maintained highway towards each guard station in the starting point in Shuri Castle at the same time as King prefecture made five-holed short bamboo clarinet (equal to the current municipalities) every area, and they placed guard station (government office) to each five-holed short bamboo clarinet. This highway was called hotel way and became main way in ground transportation of general public politically. Six main routes. "East hotel" said with "west hotel" on hotel way which lengthened along the West Coast on hotel way which lengthened each along the East Coast "Nakagami" of central part area "Kunigami" of the northern part, and, in "Shimajiri of the southern part," "nanfuharakoreshuku" said with "shinwashikoreshuku" in clockwise in counterclockwise. Kina guard station (current Kina, Yomitan-son) of reading Taniyama five-holed short bamboo clarinet says course of the West Coast toward Kunigami and the headquarters with "Kunigami Saikai Highway" among this hotel ways. Steep mountain path where trees without private house grow thick in the point from the bed of roses mountains of Nakagami and Kunigami located in boundary. Oiwa soars on both sides in the old highway; "strangled stone", and fere (bandit) which took money and goods away from gaari, person who went appeared frequently. Because it was said that we stayed in rock shade, and fere attacked people, we came to call this rock "fere rock". The fere rock neighborhood of these bed of roses mountain was place to be afraid of most of traveler as big difficult place of Yamahara highway. This becomes Okinawa folk song and Okinawa play, and various anecdotes reach at the birth present, too. Maeda, Onna-son, Yamada of Kunigami Osamu Saikai, way of Nakadomari become walk course as "way of the history". When when visited RyukyuMura, think in the Ryukyu Heian period, and take a walk through way of the history; how.