"Ichibobo bar" ~ Songs and dances transmitted to the present Travel traveling to the original scenery of the Ryukyu ~
In Okinawa, the Bon festival is still carried out in the lunar calendar. As the July 13th of the lunar calendar approaches, you can hear the sound of the Eisa drum that you can hear in various places. In Ryukyu village, Acer dances everyday in ", Road Geneva". Please feel the experience of Okinawa's Acer.
photo: Jean Matsumoto
JOHN MATSUMOTO facebook page "John Matsumoto Photography"
URL https://www.facebook.com/JanSongYuan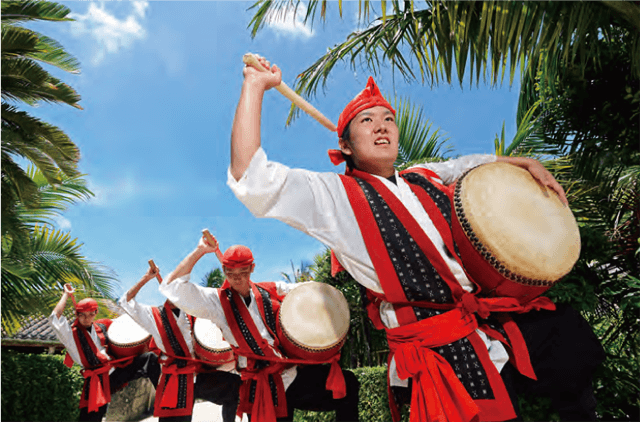 Okinawa Traditional Acer
Acer is one of the traditional Okinawan arts which is the mainland Bon Odori, and each youth group in each area has their own style, and each country walks while dancing in the area on the evening of the old basin. This is called "Road Geneva". The form of Acer is classified into several, but now, most of it is "Taiko Eisa" with a large drum, a tight drum being the focus. It consists of the flag head, drum dance, hand dance, choondaler, folk song. From singers called folk songs (JI-U-TE), Torano Yoshihiro, Matsuda Kazutoshi, Kamma Ayano, etc. are currently discharging many singers. Acer is playing a big role for Okinawa music. Regarding the origin of Acer, it is still being verified, but since there are few literatures, there are various theories.             From 1603 to 1606 I conveyed the "Buddha Dancing" which Buddhist sect of Buddhist sect of Buddhist priest who gained knowledge from the then King Ryukyu King "Naing Ning" while dancing Buddhist scripture is the form of Okinawa's own Nembutsu dance The theory that it developed to Acer is considered to be most influential. In Okinawa now, besides the traditional Japanese youth society traditional aces, the creative aces produced by acrobatics are also active.             Acer, which is performed every day in Ryukyu village, is a traditional Aces style of youth association. The songs are Acer's standard songs such as "Nakadori flower", "Tenyo chapter", "Ichibube bar".             Immediately before the war and shortly after the end of the war, in Okinawa where entertainment was weak, the practice of Eisa was also a social gathering place for young people. From that kind of flow, love songs such as "ichubi bar" and love songs have been popular as Acer's songs. Please feel the playful Eisa in Ryukyu village while it is brave.