"QUITURE · BUDUI" ~ A song and a dance transmitted to it now Journey to visit the original scenery of the Ryukyu ~
An old song of Miyakojima that was born to devote prayers to the gods. It gradually changed, "QUICTURE · BUWOU" was born and loved by the people of Miyakojima. Every day in the "Ryukyu village", "Queer · Budoui" is danced in "Road Geneva". Please experience it.

photo: Jean Matsumoto JOHN MATSUMOTO facebook page "John Matsumoto Photography" URL https://www.facebook.com/JanSongYuan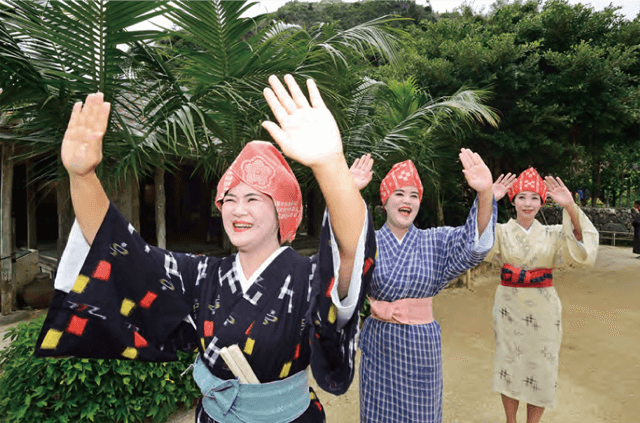 Born from praying to the gods
"QUITURE · BUDOU" is a folk performing art group dance representing the Miyako area where anyone can dance regardless of sex, age, etc. "Kuiya Boudoui" Kui means "voice", char is "match", Budwie means "dance". Normally from nobody, sing out while clapping hands, gradually shake up the circle, swing both hands up and down, step on the ground, jump and bounce. At the beginning it is gradually, intensely, rhythmical, and at the same time, dynamically repeating "Dancing the earth's dust and calling the clouds", the quature is said to start with praying for rain. There is also a theory that interprets Kui as "begging" to God. It is said that the times went down, turned to entertainment of young men and women, singing and dancing through the night. It is said that the songs of Okinawa, Miyako and Yaeyama islands have changed from cursed songs to epic songs and lyrical singing songs. According to the record in the middle of the 17th century, when Miyako 's best shinjin mother – mother (UPAM) was appointed from the king, it was customary to sing "Ayague (song) and dance quetch" in front of the king " · Budwi "is a singing act representing the Miyako. After the Pacific War, most of the settlements accompanied accompaniments such as Sanshin and Tsuzuko (shoji), costumes also began to devise each other. Born from the prayers of the people wishing fertility, it has become popular as the only entertainment, and has evolved into ethnic entertainment representing Miyako. Traditional quilts and creative quitchers, there are many distinctive regional quitars that are said to have as many quescias as there are in Miyako villages. Among numerous performances, "Kushiwa's quetcher" is the Miyako exactly representative of Miyako that everyone can dance. I would like to widely convey the "quail of the water of the rain water" to the people of the main island of Okinawa and the tourists as well, even in Ryukyu Village I am introducing it in the road Jene. Please touch a part of the culture of Miyako in Ryukyu village by all means. At Miyakojima, we hold a quetch festival every early November. If you have the opportunity, please also feel "Quitcher · Budou" of authentic Miyakojima.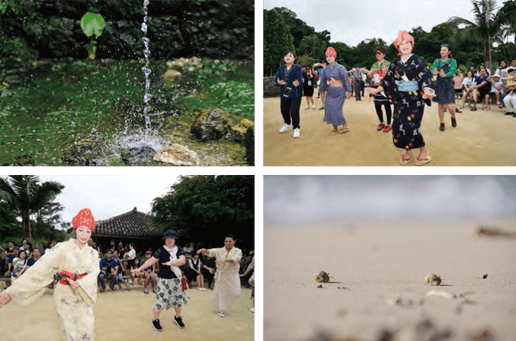 Upper left photo: "Queen Water Quatre" is known as a rich crop, rainy dancing. Rich water enhances the lives of the earth and the common people
Upper right: Let's experience quicher in Ryukyu village! Bottom left: Dancers in Ryukyu Village give a lecture on the quicca.
Bottom right: The lyrics of "Kisui's quetcher" has "a white sand becoming millet, becoming rice …". The thought of the people are transmitted
RyukyuMura

Address Onna-son, Okinawa character Yamada 1130
Telephone 098-965-1234
gyoei from 8:30 to 17:30 (reception desk 17:00)
kika from 9:00 to 18:00 (reception desk 17:30)
RyukyuMura bed of roses mountain original drama

Schedule: From June 1, 2016 to August 31 The second, the fourth Saturday conduct Time: 11:30 …, time for 14:30 – dance Place: The old Shimabukuros We show Okinawa ancient morality story "bed of roses mountain" RyukyuMura original drama "bed of roses mountain" on second, fourth Saturday during period RyukyuMura admission fee information Rate: It is 1,200 yen adult 16 years old or older Dwarf 6 years old – 15 years old 600 yen, under 6 years old for free Details https://www.ryukyumura.co.jp
We sense Ryukyu noutato dance bodily in RyukyuMura! Beautiful woman who produces original short play associated with bed of roses mountain, and falls in love with man of mountain over there so badly RyukyuMura and tie-up plan of Okinawa music trip. We go to meet across bed of roses mountain without being stood even if. However, on hotel way fere……. Love story of eventfulness shows on the second, fourth Saturday during period. Please sense song and scenery of Okinawa that you want to convey earlier for 100 years bodily in RyukyuMura.