"Ryukyu Nabi Road" ~Songs and dances handed down over generations, a tour to visit indigenous scenes of Ryukyu~
Ryukyu Mura will release a CD album "Ryukyu Nabi Road" to celebrate its 35th anniversary since its opening. The village passes down traditions of old Ryukyu era to present day. And we have been performing entertainment stages and "Michi Jyune" a traditional parade at the village every day. Please experience Okinawa's songs and entertainment.
photo: Jean Matsumoto
JOHN MATSUMOTO facebook page "John Matsumoto Photography"
URL https://www.facebook.com/JanSongYuan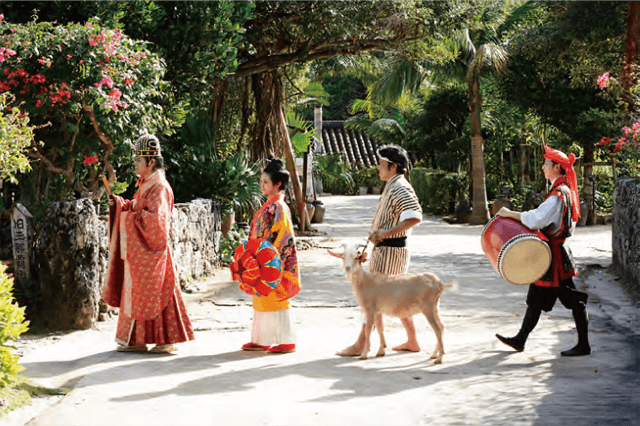 Ryukyu Mura will celebrate its 35th anniversary on October 23, 2017. To celebrate this memorial occasion, we proudly announce that the village will release a CD album "Ryukyu Nabi Road" featuring songs loved by people of Okinawa and our original song. It's produced by Hidekatsu, known as a composer of one of the most famous Eisa songs "Mirukumunari", and edited by Yasushi Matsumoto from Taiyofu Orchestra. Vocalists are the singers who perform daily in the entertainment shows in the village. Please take a journey through Okinawa's present and past with Okinawa's native songs.
"Ryukyu Nabi Road" included tracks
"Unjyu ga Nasakidu Tanumariru" It is a big hit song by Sadao China released in 1968. "Unjyu ga Nasakidu Tanumariru" means "Your kindness is the only thing I can count on".
"Bashofu" A masterpiece by Tsuneo Fukuhara, a composer representing Okinawan music industry. The song doesn't use Ryukyu rhythm. Instead, it used the triple time rhythm, which hadn't been seen in Okinawa's songs before. It's a famous song that best describes the beauty of Okinawa.
"Shimauta" A signature song by THE BOOM. Words and music are by Kazufumi Miyazawa. It has been 25 years since the song was released in 1992. It's a masterpiece, even now it has been covered in different countries all over the world.
"Umi no Koe" It is a big hit single released online and performed by Urashima Taro (Kenta Kiritani). The lyrics was by Makoto Shinohara and the music by Masaru Shimabukuro(BEGIN).
"Okinawa Jintoyo" "Jintoyo" means "it's true" or "that's right." It's a signature song by Takeshi Yamauchi. It's a truly popular tune among tourists as it expresses the scenic beauty of Okinawa.
"Tsuki ga Detanara" (When the Moon rises) A smash hit by a four men chorus group "Hop Tones" (formed in 1966). It also carries the beautiful melody of Tsuneo Fukuhara.
"Dynamic Ryukyu" It's released in 2009 by Akira Ikuma. It's now loved as one of representative songs for creative Eisa.
"Anma" It's a song released by Kariyushi 58 in 2006, composed by a vocalist Mr. Maekawa to dedicate to his mother. Anma means "mother" in the Okinawan dialect.
"Nada Sousou" Lyrics by Ryoko Moriyama, composed by BEGIN. "Nada Sousou" means "tears running down the cheeks" in the Okinawan dialect.
"Warabigami" "Warabigami" was released in 1997 and a signature song by Misako Koja. It's covered by many singers including Rimi Natsukawa, and Hiroko Shimabukuro.
"Senjin no Oshie" A song newly written by Hidekatsu, a composer of the song "Mirukumunari". Lyrics in the song came from traditional Ryukyu poems that Nago Uekata composed from "Rikuyuengi" in Ryukyu Kingdom era. It's a song full of Kugani Kutuba (moral lesson) that older generations of Okinawa taught us.
We offer ten cover songs from Okinawa's folk song to pop, and one original song; a total of eleven songs with full of originality.
Feel the Okinawan spirit by Ryukyu Mura's 35th anniversary album "Ryukyu Nabi Road".