Okinawan songs loved through Moashibi have constantly been changing. The origin of the songs is to have fun together.
Moashibi is a custom that used to be held widely in Okinawa. "Mo" means field. Young men and women used to gather at the field or beach at night to enjoy songs and dances together over food and drink. It's a contemporary meaning of "Konpa (joint party)." Moashibi was not just an opportunity for youngsters to mingle, but it also functioned as an important occasion to pass on folk songs, instrument skills, dances, folktales, and other cultural traditions. Many Okinawan musicians had fun in Moashibi and consequently honed their artistic skills by competing in improvising songs, writing the lyrics, and chants. It can be said that Moashibi worked as a driving force to create new folk songs one after another.
photo: Jean Matsumoto
JOHN MATSUMOTO WEB SITE "CHAOS – OkinawaAmericaAsiA ~"
URL http://okinawamericasia.ti-da.net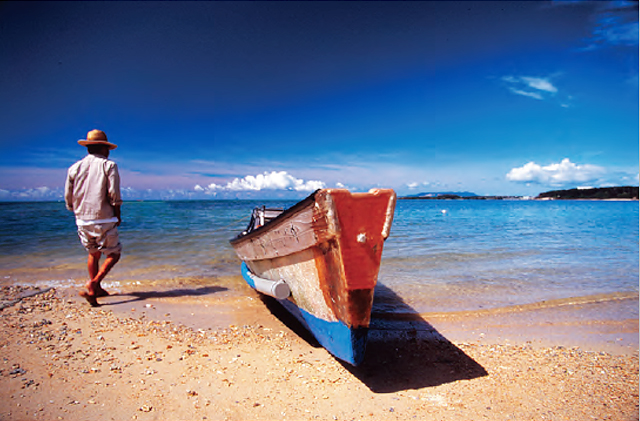 Comical and enjoyable rhythm and melody.
Dance and lyrics can be arranged freely!!
"Uminu Chimbora" is a classic folk song originally from Ie Island and was brought to red-light district in Naha. Lyrics and melody have been arranged freely and handed down today. As the song was popular in drinking scenes and red-light district just like Moashibi, you'll notice the lyrics have a full of humor and they are a bit erotic. Various lyric arrangements were made and it's a tune easy to improvise and play freely. Rhythm and melody are very catchy and rhythmical and until now, the song is still played in many banquet scenes. This is one of the songs that are loved most by Okinawan people. "Uminu Chimbora" played and sung humorously is the Okinawan folk song in our time to be enjoyed just like a session song.