"Tinsagunu Hanaya Chimisachini Sumiti"
"Tinsagunu Hana" a folk song loved most by people of Okinawa.
The workshop of "Tinsagunu Hana" will kick off at Ryukyumura, in which you'll listen to folktales from Oba (grandma) while you get your nails done. Please enjoy music travel to visit untouched scenes of Okinawa.
photo: Jean Matsumoto
JOHN MATSUMOTO WEB SITE "CHAOS – OkinawaAmericaAsiA ~"
URL http://okinawamericasia.ti-da.net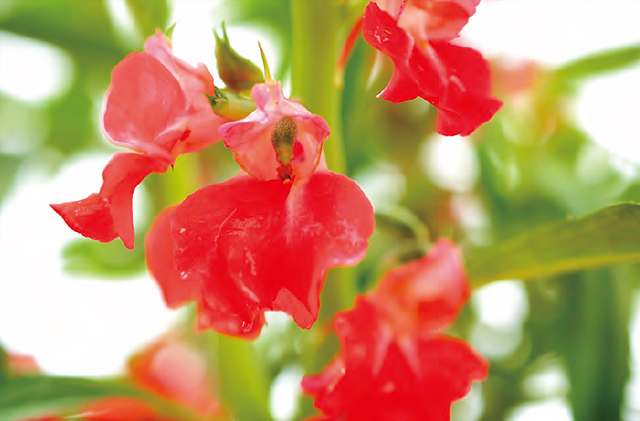 The most popular song of Okinawa -Tinsagunu Hana
Tinsagunu Hana is one of the songs that has been loved most by people of Okinawa. In 2012, the popularity vote was held asking people "What is the most appropriate song as people's favorite song of Okinawa." In the poll, "Tinsagunu Hana" gathered the most votes and it was selected as the Okinawa people's favorite song. The lyrics of the song include ancestor's teaching, and various Kugani Kutuba (moral and teaching) can be seen in its lyrics. The song has ten verses. People usually sing until sixth verse. The verse order varies depending on singers. We put first three verses and their meaning on the website. Various interpretations were made especially for the third verse. We'd like to interpret, "As parents, it is not only reason but also our destiny to teach and support our children to grow."
There used to be a custom that people in mainland Japan and South Korea dyed their nails with flowers
Tinsagunu Hana is "Housenka" (Garden Balsam) in Japanese. The custom to dye nails with Garden Balsam flower can be seen in various parts of Japan. In Edo period people enjoyed dying their nails with flowers, so it is also called "Tuma Kurenai." They put flower petals on their nails overnight to dye. In South Korea, it is believed that if you dye your nails with the flower and color remains until winter, your love will come true. The stems of flowers grow straight and leaves come alternately, a couple of flowers bloom from its axil in summer. The height of flower is 50-60cm and seeds for gardening can be purchased at stores.
The lyrics of Tinsagunu Hana
Tinsagunu Hanaya Chimisachini Sumiti (Dye your nails with flowers of Garden Balsam)
Uyanu Yushigutuya Chimuni Sumiri (Dye your heart with what your parents advise you)

Tinnu Muribushiya Yumiba yumariyui (The stars in the sky are countable)
Uyanu Yushigutuya Yumiya naran (What parents tell you is uncountable)

Yuruharasu Funiya Ninufabushi miati (The Polestar is a guide for boats sailing at night)
Wannacheru Uyaya Wandu miati (Parents giving birth to me are the only guide for me)