"Tanchame-Bushi" ~A journey to visit the untouched scenes of Okinawa, where people danced pleasantly about their fishing at the beach of Tancha
"Nancha Mashi Mashi, Dianga Soi Soi" "Tanchame-Bushi" is a popular song among Okinawan people for song and dance with cheerful and comical rhythm. The workshop to enjoy dancing to "Tanchame-Bushi" will start in Ryukyu Mura. Let's have a musical journey to enjoy untouched scenes of Okinawa.
photo: Jean Matsumoto
JOHN MATSUMOTO WEB SITE "CHAOS – OkinawaAmericaAsiA ~"
URL http://okinawamericasia.ti-da.net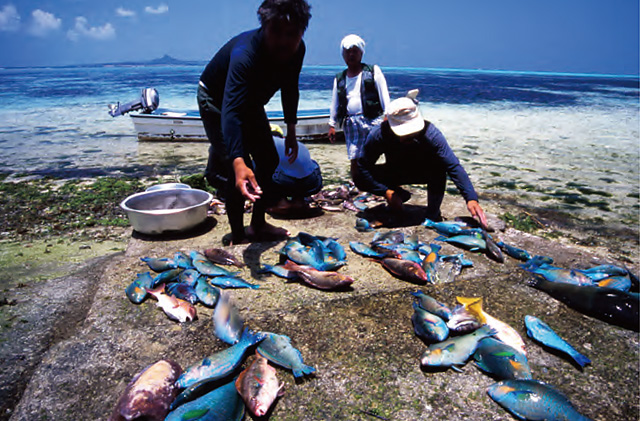 "Tanchame-Bushi" is an Okinawan folk song featuring fishing at the beach located in Tancha, Onna Village.
It is also known as a song for Ryukyu Dance. In Meiji era in Okinawa, the song was performed before the theater play. "Tanchame-Bushi" is often played and danced together with a song called "Ikei-Hanari-Bushi" as melody songs. A monument stands at the beach in "Tancha," known as the birthplace of the song.
It's famous for cheerful and comical song and dance, and it's an Okinawan folk song that can be freely arranged.
Dressed in Bashofu (Banana fiber cloth), male dancers have "Eku"(oar), and female dancers have "Baki"(bamboo colander) full of fish and danced as if they were walking around to sell them. It's a kind of "Zou Udui (common dance)." The rhythm is cheerful and comical. Names of places are sung in the third lyric and the name of place in lyrics often changed depending on the place the dance was performed. It demonstrates the improvisation of Okinawan folk songs.