Kagiyadefu Bushi The tour to visit the original scenes of Okinawan song "Kagiyadefu"
"Kiyunu Fukurashaya Naninija Natatiru Tibudi Unuhananu Tuyuchatagutu" "Kagiyadefu Bushi" -an essential song for cerebration scenes in Okinawa. Ryukyumura is performing "Kagiyadefu Bushi" to celebrate New Year's Day in all of January. Please enjoy music travel of visiting the original scenes of Okinawa.
photo: Jean Matsumoto
JOHN MATSUMOTO WEB SITE "CHAOS – OkinawaAmericaAsiA ~"
URL http://okinawamericasia.ti-da.net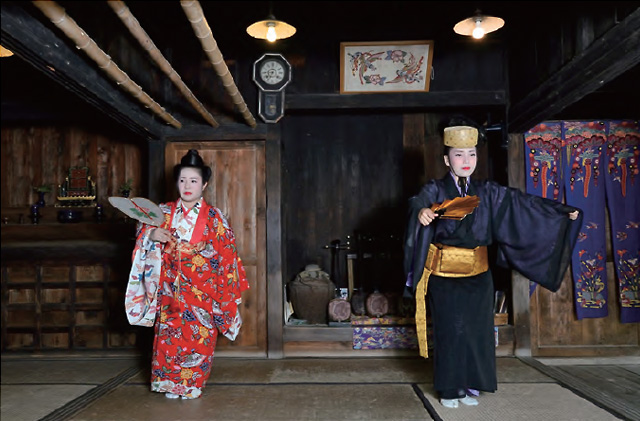 "Kagiyade (Kajyadi) fubushi" an essential song for the celebrations in Okinawa
"Kagiyadefubushi" is a dance song, which has been played for more than 300 years in Okinawa and performed as an opening song for the celebrations.
During the Ryukyu Kingdom era, it was one of the songs entitled "Gujinfu" and played in front of the Ryukyu's King. It's part of a suite composed of five different songs: "Kagiyadefu" "Onnabushi" "Naga Iheyabushi" "Nakagusuku Hantamebushi" and "Koteibushi."
"Kagiyadefubushi" is played to wish for longevity, prosperity of the kingdom and their descendants.
Originally, dancers performed the song, disguised in an old man with folding fan and it was the only song to be played as an old man.
There are several theories of the song's origin. When King Sho-En was still obscure, a smith Okuma known as the originator of Okinawan smith living in Okuma, Kunigami Village sheltered Sho-En. Later, Sho-En became a king, a smith Seiin made a song to express his pleasure and the song was named after Kajiya (smith).
Another theory goes that there was a song called "Kajyadenfubushi" in the collection of Ryukyu's old poems "Ryukashu Ryuka Hyakkou Kenjyu Setsuryu." Some believed that this song became the origin of "Kagiyadefubushi." There are a couple of more theories about its origin.

'In 2011, a song monument was erected at aforementioned Okuma, Kunigami Village, inscribed with the original lyrics of "Kagiyadefubushi."
It's written as "Kagiyade," but pronounced as "Kajyadi."
"Kagiyadefubushi " has been played as an essential song at the banquets in Okinawa today. This is the tune loved by people of Okinawa and one of representative songs we'd like to pass down for a hundred years.
Kiyunu Fukurashaya

Naunijyana Tatiru

Tsuibudi Uru Hananu

Tsuiyu Chata Gutu

How can I express the joy I'm feeling today?
It's a delightful feeling we can feel when morning dew drops on buds of flowers and starts blooming lively.